Birthday boy Sachin Tendulkar led Mumbai Indians will take on Deccan Chargers at Uppal stadium in Hyderabad. Deccan Chargers captain Kumara Sangakkara won the toss and elected to field first.
IPL T20 Match result: Mumbai Indians defeated Deccan Chargers by 37 runs.
Best of the match: Rohit Sharma, Lasith Malinga, Andrew Symonds & Amit Mishra.
Live ratings for MI Vs DC Cricketers:
| | | | |
| --- | --- | --- | --- |
| MI | Rating | | Rating |
| | | | |
| Batsmen: | | | |
| | | | |
| Sachin Tendulkar | 6/10 | Sunny Sohal | 5/10 |
| Ambati Rayudu | 3/10 | Sikhar Dhawan | 5/10 |
| Rohit Sharma | 8/10 | Bharat Chipli | 3/10 |
| R. Satish | 5/10 | Ravi Teja | 2/10 |
| | | | |
| All-rounders: | | | |
| | | | |
| Kieron Pollard | 1/10 | Daniel Christian | 4/10 |
| Andrew Symonds | 7/10 | Cameron White | 2/10 |
| | | | |
| Wicket-Keeper: | | | |
| | | | |
| David Jacobs | 6/10 | Kumara Sangakkara | 5/10 |
| | | | |
| Bowlers: | | | |
| | | | |
| Harbhajan Singh | 5/10 | Dale Steyn | 3/10 |
| Lasith Malinga | 8/10 | Amit Mishra | 8/10 |
| Munaf Patel | 4/10 | Pragyana Ojha | 5/10 |
| Abu Nechim | 4/10 | Ishant Sharma | 4/10 |

Highlights of MI Vs DC IPL T20 Cricket match:
| | |
| --- | --- |
| Mumbai Indians | |
| | |
| MI Batting: | DC Batting: |
| | |
| David Jacobs: 32 runs in 20 balls | Sangakkara: 34 runs in 28 balls |
| Sachin Tendulkar: 28 from 24 balls | S. Dhawan: 25 runs in 22 balls |
| Rohit Sharma: 56 runs in 34 balls | Amit Mishra: 25 not out |
| Andrew Symonds: 44 runs in 33 balls | |
| | |
| MI Bowing: | DC Bowling: |
| | |
| Lasith Malinga: 13/3 in 4 overs | Amit Mishra: 14/2 in 4 overs |
| | |
| | |
| | |
| Final score: 172/4 in 20 overs | Final score: 135/8 in 20 overs |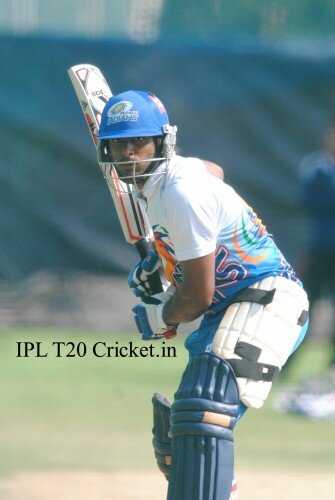 DC Vs MI T20 Game – over by over score & highlights:
| | | | | |
| --- | --- | --- | --- | --- |
| Over | MI | DC | MI Batting | DC Batting |
| | | | | |
| | | | Field Restrictions: | |
| | | | | |
| 1 | 6/0 | 5/0 | Four by Jacobs | Four by Dhawan |
| 2 | 15/0 | 15/1 | 2 Fours by Tendulkar | Sohal Run out |
| 3 | 25/0 | 25/1 | Six by Jacobs | 2 Fours by Dhawan |
| 4 | 36/0 | 31/1 | 2 Fours by Jacobs | Four by Dhawan |
| 5 | 47/0 | 39/1 | 2 Fours by Jacobs | Four by Sangakkara |
| 6 | 57/1 | 41/2 | Jacobs Out & Four by Tendulkar | Dhawan out |
| | | | | |
| | | | Middle overs: | |
| | | | | |
| 7 | 65/1 | 44/2 | - | - |
| 8 | 69/1 | 57/3 | - | White out |
| 9 | 70/3 | 65/3 | Sachin Out & Rayudu Out | Chipli out |
| 10 | 72/4 | 72/4 | Pollard Out | Chipli out |
| 11 | 74/4 | 76/4 | - | - |
| 12 | 78/4 | 81/4 | - | - |
| 13 | 87/4 | 91/4 | Four by Rohit Sharma | Six by Christian |
| 14 | 97/4 | 95/5 | Four by Symonds | Sangakkara out |
| 15 | 102/4 | 100/6 | - | Christian out |
| | | | | |
| | | | Slog overs: | |
| | | | | |
| 16 | 114/4 | 101/7 | 2 Fours by Sharma | Raviteja out |
| 17 | 124/4 | 116/7 | Four by Sharma | 2 Fours by Mishra |
| 18 | 132/4 | 123/7 | Four by Symonds | - |
| 19 | 148/4 | 129/8 | 2 Fours & Six by Symonds | Steyn Out |
| 20 | 172/4 | 135/8 | 2 Sixers & Four by Sharma | Four by Mishra |